"WANTED LIPS"

The incredible and natural looking lips are the result of years of research and combine elements and techniques from all over the world! The defining features of "Wanted Lips" are height and fullness without protrusion forward (the dreaded "ducky lips"). The lips appear completely natural and youthfully plump, just as after a kiss. It is a combination of beauty, desire, and self-expression all at the same time, boosting your confidence and self-esteem.
Using Juvederm® (a hyaluronic acid filler made by Allergan), we can help improve the appearance of your lips… giving them volume, projection, and pout if desired. Whether you like something like Angelina Jolie or something like Gretta Garbo, a beautiful lip appearance can be achieved with filler using Juvederm®, Juvederm® Volbella Juvederm® Vollure products.
Each person's individual case is different and treatment has to be individualized. For that reason, at the time of a consultation, one of our skilled providers will go over the options available to you and will discuss realistic expectations.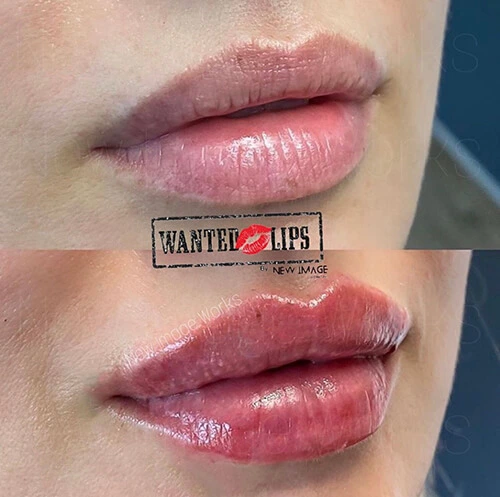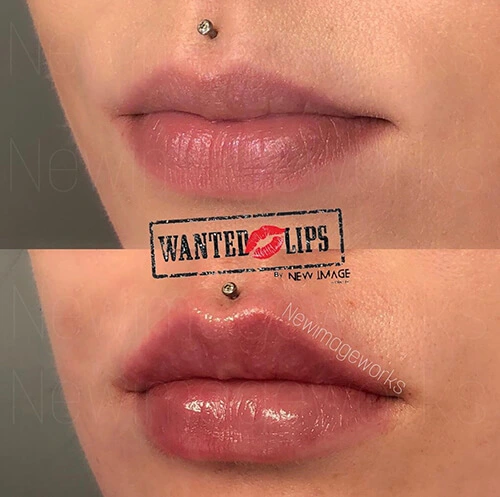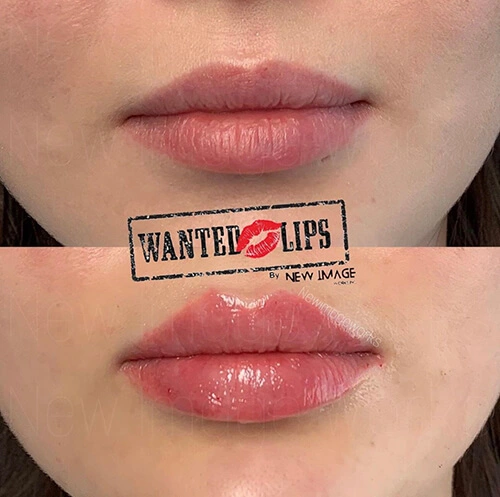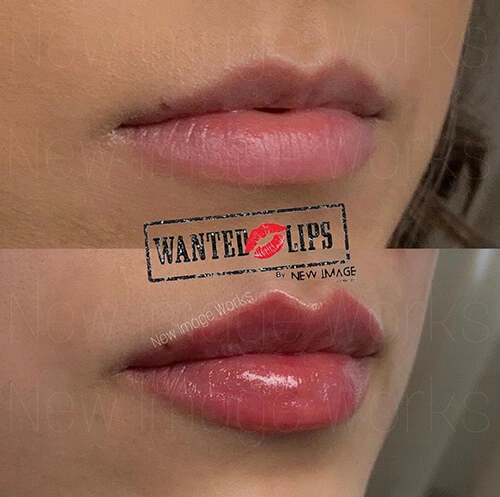 Actual New Image Works Patients. Individual Results May Vary.
THE PROCEDURE

After your consultation, we can perform a lip enhancement procedure after application of local numbing cream. Although the product itself is mixed with lidocaine (numbing medicine), we find additional numbing makes for a very comfortable experience for the patient. Our goal always is to provide as pleasant and painless experience as possible for our patients.
After the lip area is sufficiently numb, we will inject the filler in such a way as to create the result you are seeking. At times, more than one injection session may be necessary to create the perfect appearance to the lips desired. This will be discussed with your provider before and after your treatment session.
Call us now for a consultation and assessment.
WE CAN DESIGN THE TREATMENT PLAN RIGHT FOR YOU!
NEW IMAGE WORKS CLIENT REVIEWS

Lupita C.

"I have been looking for a medical spa to get lip fillers and I found the best place. New Image Works its my favorite place now. Tatiana is the best. She is so nice and knowledgeable, she gives you that confidence you need when getting infections. Her staff is so nice and welcoming. I really recommend New Image Works."
Lauren H.

I fell absolutely in love with Tatiana and her staff after my first visit! She is so welcoming and makes you feel like you are getting the best service possible. She is so adorable and her work is AMAZING! My lips are so natural looking while still giving me that extra plump I was looking for. If I could give her 100 stars I would! Highly recommend!"
Krystale J.

"Hands down the best! I had a facial done by Honey and it was absolutely amazing. I also had lip filler by Tatiana and she is a perfectionist. The office is extremely clean and the front desk staff are very friendly. I travel over a hour to been seen here at New Image and refuse to go anywhere else. Check them out, you will not be disappointed."
Felicia R.

"I have been getting my lips done for years and they have always been off in size and shape, Tatiana did everything I wanted and made them even. I also wanted to get my nose sized so it wasn't hanging down so much. It was my first time and she did an amazing job. She even suggested I do my chin do even out my entire face. I am sooooo happy and I will only go to her moving forward."
Michelle F.

"Tatiana is by far the best practitioner in the biz! Honey is so kind and helped me figure out the best course of action to combat my adult acne.
I am very grateful to walk into this office and feel at home. My experience at the office is top notch every time."