Plasma BT

Plasma BT is a revolutionary technology in the field of non-surgical aesthetic treatment designed to improve skin tone and texture, giving it a brighter, more contoured and more youthful appearance. The treatment works by tightening sagging skin and reducing the appearance of loose skin around the jaw. Fine lines and deeper wrinkles are reduced. It can be used to treat:
Upper eyelid wrinkles
Wrinkles around eyes
Neck
Crows feet
Upper lip lines
Wrinkles on the face
Acne & acne scars
Raised skin lesions
Sunspots & age spots
Skin tags & Warts
Incisions or surgery scars
Fat accumulation
Birth mark and dark spots on the upper lips
Décolleté spots
Tattoo removal of every colour
For the first time in the history of the aesthetic industry we are now able to remove excess skin in a non-surgical, minimally invasive manner
Blepharoplasty





With the application of a controlled 'micro-beam of plasma' to superficial layers of skin allows trained hands to perform multitude of procedures such as upper and lower eyelid lifts, mini face-lifts, and the removal of wrinkles, unsightly scars, stretch marks and even tattoos.
All of this without the use of scalpel or sutures to outweigh previous attempts at remodeling the face and the skin.
The procedure is virtually pain-free, it takes a few minutes and leaves the patient with no visible down-time. Swelling is also lessened in comparison to surgery, and optimal results are achieved within 1 to 3 sessions, depending on the amount of skin that needs to be reduced.
Compared to surgical treatments, the benefits are as follows:
Injectable anaesthetic not required
No cutting of skin or stitches needed
Very low risk procedure
Minimal side effects and far less downtime
Quick & easy procedure
Most patients can return to work the same day
No thinning of the skin
Significant cost saving
Crow's Feet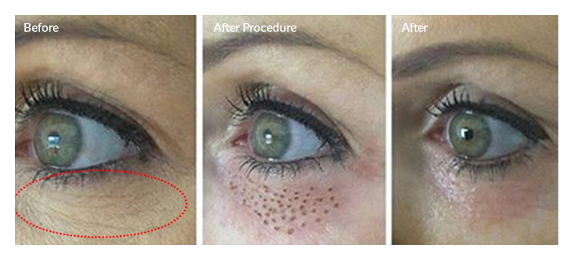 Plasma BT Treatment – Age Spot Removal
Plasma BT Treatment – Forehead Wrinkle Removal
Plasma BT Treatment – Moles Removal
Plasma BT Treatment – Eyebag Wrinkle removal
Plasma BT Treatment – Lentigo Removal
Plasma BT from Beamwave Technologies
Call us now for a consultation and assessment.
WE CAN DESIGN THE TREATMENT PLAN RIGHT FOR YOU!
** these procedures results may vary per client **
NEW IMAGE WORKS CLIENT REVIEWS

Lupita C.

"I have been looking for a medical spa to get lip fillers and I found the best place. New Image Works its my favorite place now. Tatiana is the best. She is so nice and knowledgeable, she gives you that confidence you need when getting infections. Her staff is so nice and welcoming. I really recommend New Image Works."
Lauren H.

I fell absolutely in love with Tatiana and her staff after my first visit! She is so welcoming and makes you feel like you are getting the best service possible. She is so adorable and her work is AMAZING! My lips are so natural looking while still giving me that extra plump I was looking for. If I could give her 100 stars I would! Highly recommend!"
Krystale J.

"Hands down the best! I had a facial done by Honey and it was absolutely amazing. I also had lip filler by Tatiana and she is a perfectionist. The office is extremely clean and the front desk staff are very friendly. I travel over a hour to been seen here at New Image and refuse to go anywhere else. Check them out, you will not be disappointed."
Felicia R.

"I have been getting my lips done for years and they have always been off in size and shape, Tatiana did everything I wanted and made them even. I also wanted to get my nose sized so it wasn't hanging down so much. It was my first time and she did an amazing job. She even suggested I do my chin do even out my entire face. I am sooooo happy and I will only go to her moving forward."
Michelle F.

"Tatiana is by far the best practitioner in the biz! Honey is so kind and helped me figure out the best course of action to combat my adult acne.
I am very grateful to walk into this office and feel at home. My experience at the office is top notch every time."