Sylfirm X is the most recent advancement in Radiofrequency microneedling technology, reacting to only abnormal blood vessels and tissue to selectively treat increased pigmentation and vascular lesions in addition to traditional skin tightening which is what RF Microneedling has been known for.
This newest generation technology has been clinically proven to safely and efficiently address a variety of concerns, including wrinkles, redness, acne scars, pore minimization, and overall skin appearance and tone improvement.
Minimizes wrinkles
Tightens and lifts the skin and lower face sagging
Lifts brows
Tightens eyelid crepe skin
Reduces tired under eye wrinkles and fine lines
Minimizes pores and acne scars
Gets rid of small pockets of unwanted facial fat such as jowls, puffy nasolabial folds, or fullness under the chin area
Reduces the appearance of "necklace lines" from looking down at the phone or genetically prone prominent horizontal neck lines.
Reduces the redness from rosacea
Targets the vascular component of melasma, basically cutting off its blood supply, and lighting the pigmentation
Treats active inflammatory acne
Reduces stretch marks
Promotes scalp circulation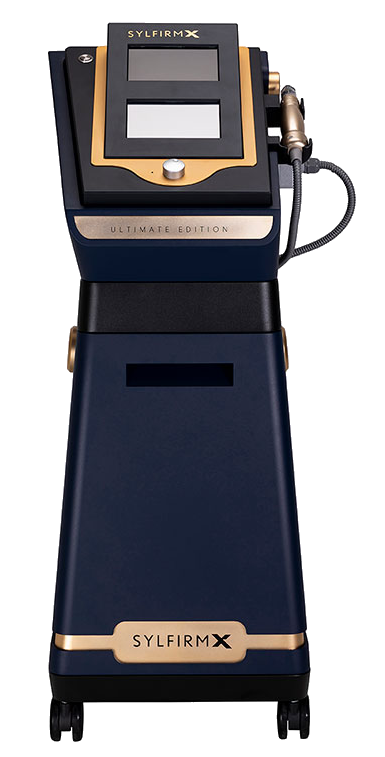 How does Sylfirm X work?

This system uses acupuncture sized needles in a square grid to deliver radio frequency energy or heat to the dermis without damaging the epidermis or outer layer of the skin. This system is safe for all skin types and requires very little downtime (we could safely say less than 1 day of socially acceptable downtime.
Using Sylfirm X technology has a number of advantages for the patients:
These treatments are completed more quickly
Patients experience little to minimal pain (average feedback is 2-3 out of 10 pain scale with numbing cream)
Minimal invasiveness
Amazing outcomes
There is little or no downtime
For many people, the outcomes are immediately obvious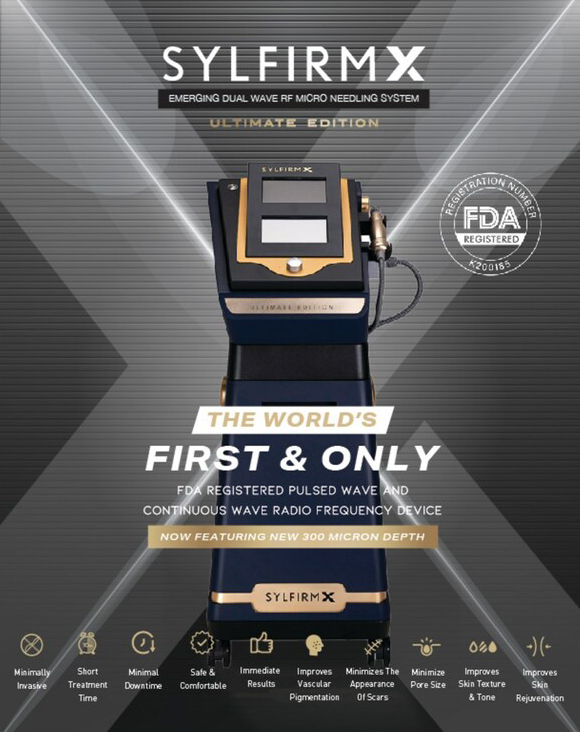 FAQ

How many Sylfirm X treatments will be required?
Most people see an improvement in their skin after only one treatment. Up to five or six sessions may be prescribed depending on the uniqueness of each patient and their goals. For example a young 20 something year old with healthy skin may need just 1-2 treatments to make their skin look amazing. On the other hand, someone with severe acne scars may require 4-6 sessions to give them visibly significant results.
How long will the treatment take?
The treatment itself takes between 45-90 minutes (not including 45-60 minutes of numbing time), depending on the region to be treated.
Everyone is unique, but the collagen you produce is your own and continues to be produced at a rapid rate for three months. The results generally last a solid year or longer. Your face and body will continue to age of course so this just sets the clock back on your skin. Living a healthy lifestyle is still important in looking and feeling your best to maintain the effects of this treatment.
What exactly is radiofrequency?
Radiofrequency is a type of energy that generates heat, which stimulates collagen formation, resulting in tighter, younger- looking skin. Patients achieve the best outcomes when delivered with fractionated microneedles.
Is Sylfirm X uncomfortable and painful?
The majority of patients report a sensation of mild tingling feeling and some warmth to the skin. A topical numbing cream is used before this procedure to promote optimal comfort, however, we all experience pain differently. We often use various comfort measures to ensure that we can provide the finest treatment possible. At New Image Works we also offer laughing gas or PRONOX to enhance the comfort level and provide extreme relaxation during the treatment. 10 minutes after discontinuing the laughing gas you are completely normal and can even drive home.
Is one treatment sufficient?
For re-texturizing fine lines, wrinkles, and scars, it is recommended to get 3 to 4 treatments, spaced 4 to 6 weeks apart. Some clients have noticed excellent benefits after only one session, but the average skin condition necessitates 2-3 treatments. Remember the rule of thumb: prevention is always more difficult than repair. While improvements for skin tone and texture can be visible immediately, there is an improvement with each treatment, with the process of collagen regeneration growing with time.
Is the treatment appropriate for tanned skin?
Sylfirm is an excellent treatment for all skin types since it targets the dermis while minimizing thermo – stimulation on the epidermis. Sylfirm, unlike some other laser treatments, may be used safely on tanned and darker skin tones.
What other areas of the body can be treated with Sylfirm X?
The number one area outside the face we treat is the neck. The neck and hands usually give away your age. It is very important to have the skin texture, tone, and color match that of the skin on the face. We highly recommend treating the neck along with the face to keep that smooth continuum of youthful skin on your exposed areas of the face and neck. You can also receive Sylfirm X on anywhere in the body you want the skin to be firmer and tighter such as abdomen, arms, knees, hands, etc.
Read more about Sylfirm X:
Post Treatment Instructions:
A certain degree of discomfort, redness, and/or irritation during and after treatment is expected. oIf any discomfort or irritation persists more than 24-hours, please notify: New Image Works Medical Spa Phone: Glenview: 224-432-5803 Chicago: 312-638-4979
Tiny scabs (of less than 1 mm in diameter) may form 24-72 hours post treatment and may remain for several days. The scabs should not be touched or scratched (even if they itch) and should be allowed to shed naturally.
During the first two (2) days following treatment, care should be taken to prevent trauma to the treated site: avoid hot baths, massage, irritating skin care products or exfoliants, etc. The skin should be kept clean to avoid contamination or infection; any mechanical or thermal damage to the area must be avoided.
It is important to keep your skin moisturized after the treatment
You may have mild swelling for 1-3 days after your treatment. Patients may apply an icepack (NOT direct ice) to the irritated area for 1-2 days in approximately 15- minute sessions 3-4 times per day.
Redness for 1-3 days is common. After 12-hours post procedure, the patient may apply a hydrocortisone cream 3-4 times per day to reduce redness.
Makeup can be applied 12 hours after treatment.
Avoid prolonged sun exposure or use of a tanning bed for at least two weeks after the treatment, as the skin that was treated will be more sensitive to the sun after your Sublative treatment.
Use a minimum of SPF 30 daily to protect your skin after your treatment.
Contraindications & Cautions
Patients with a current history of skin cancer, other cancer diseases, or undergoing cancer treatment.
Patients with precancerous waters/moles.
Patients with moderate to severe chronic mental diseases (e.g. heart disease, diabetes, epilepsy)
Patients with hemorrhagic disorder, hemostatic dysfunctions, or taking anticoagulants.
Patients with immune disorders (e.g. HIV) or on immunosuppressive therapy.
Patients with moderate to severe chronic skin diseases (eg. psoriasis, eczema), scleroderma, lupus.
Patients with implantable medical devices (e.g. a pacemaker or a defibrillator).
Herpes simplex infection or infection.
Open wound at treatment site.
Extreme keloid tendencies.
Patients who received gold or metal thread lifting.
Pregnancy, Breast feeding.
Patients with a past history of skin cancer or other cancer diseases.
Avoid fillers, Botox, thread lifting, fat grafting at treatment area for 4 weeks.
Avoid exfoliation, microdermabrasion or phototherapy (e.g. lasers, IPL) for 2-4 weeks.
Avoid topical agents that may increase sensitivity of skin (i.e. retinoids, hydroquinone, benzoyl peroxide acne products) for 1 week.
NSAIDs (non-steroidal anti-inflammatory drugs) (i.e. ibuprofen, Motrin, Advil) should not be taken for 1 week as they may interfere with skin healing response.
If the patient has dental implants, place a gauze between teeth and gums during the procedure.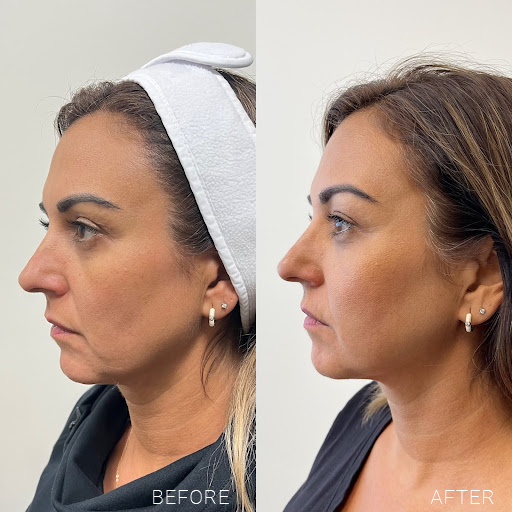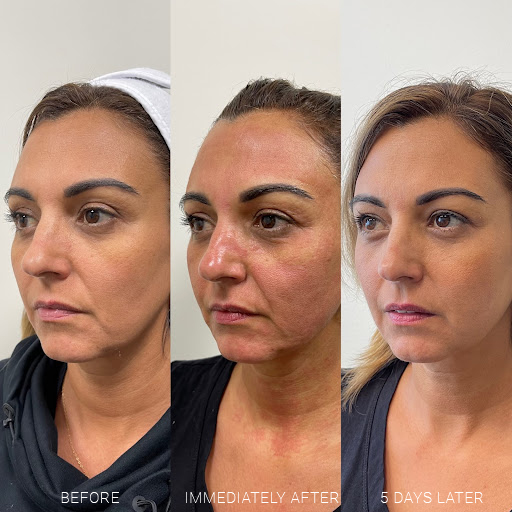 Call us now for a consultation and assessment.
WE CAN DESIGN THE TREATMENT PLAN RIGHT FOR YOU!
** these procedures results may vary per client **
NEW IMAGE WORKS CLIENT REVIEWS

Lupita C.

"I have been looking for a medical spa to get lip fillers and I found the best place. New Image Works its my favorite place now. Tatiana is the best. She is so nice and knowledgeable, she gives you that confidence you need when getting infections. Her staff is so nice and welcoming. I really recommend New Image Works."
Lauren H.

I fell absolutely in love with Tatiana and her staff after my first visit! She is so welcoming and makes you feel like you are getting the best service possible. She is so adorable and her work is AMAZING! My lips are so natural looking while still giving me that extra plump I was looking for. If I could give her 100 stars I would! Highly recommend!"
Krystale J.

"Hands down the best! I had a facial done by Honey and it was absolutely amazing. I also had lip filler by Tatiana and she is a perfectionist. The office is extremely clean and the front desk staff are very friendly. I travel over a hour to been seen here at New Image and refuse to go anywhere else. Check them out, you will not be disappointed."
Felicia R.

"I have been getting my lips done for years and they have always been off in size and shape, Tatiana did everything I wanted and made them even. I also wanted to get my nose sized so it wasn't hanging down so much. It was my first time and she did an amazing job. She even suggested I do my chin do even out my entire face. I am sooooo happy and I will only go to her moving forward."
Michelle F.

"Tatiana is by far the best practitioner in the biz! Honey is so kind and helped me figure out the best course of action to combat my adult acne.
I am very grateful to walk into this office and feel at home. My experience at the office is top notch every time."