"Wanted Lip Fillers" also known as the Russian lip technique
Here at New Image Works Medical Spa we provide a wide variety of services such as: skin treatments, Sculptra Aesthetic, Botox / Dysport, and body contouring to name a few. But what we are primarily known for is our "Wanted Lip Fillers" also known as the Russian lip technique.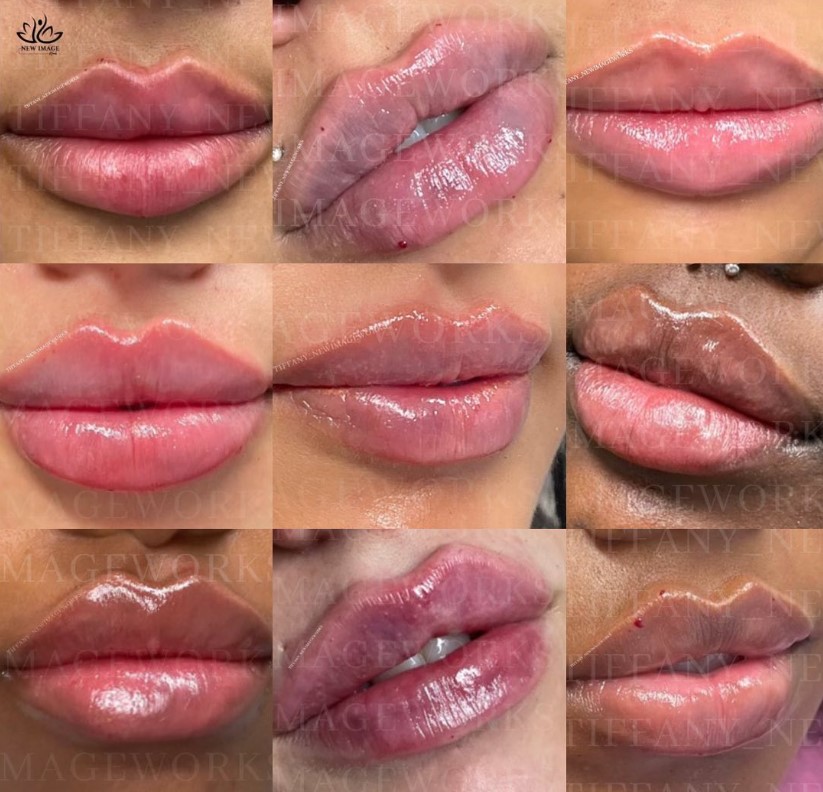 This style of lip filler focuses on giving more height to the upper lip, creating a "V" shape without protruding the lip from the face. Our focus is to avoid the "ducky" lip appearance by not adding outward volume to the lips. By giving the lips a vertical, more natural lift with our "Wanted Lips" technique this creates the "Russian Doll" aesthetic which has become immensely popular over the years.
What is lip filler?
Lip filler is an injection using either Juvederm Ultra, Juvederm Ultra Plus, or Restylane Kysse to achieve facial symmetry. Lip filler can last from 6 months to one year depending on the metabolism of an individual. The fillers used for lip enhancement are used with hyaluronic acid, a natural substance found within our cells. Meaning over time the filler will naturally metabolize. Although this may require repeat treatments over time, this allows for us to maintain a natural looking lip as our body naturally ages to ensure desired results.
What are "Wanted Lips"?
"Wanted Lips" is our specific technique and name for the Russian Lip technique. Tatiana Alexeev, our President and CEO of New Image Works, has spent many years perfecting and teaching this popular technique to our team of injectors along with other providers who enroll in our courses. As an Allergan Trainer, Tatiana has the knowledge and experience to assess the needs of her patients and passed that skill to our talented team of injectors.
How do I know if the Lip Filler (Juvederm / Kysse) or Lip Flip Botox service is right for me when scheduling my appointment?
Lip Filler compared to Lip Flip Botox may be confusing to someone who is newer to aesthetic services. Lip Filler is done by adding volume to the desired area, creating volume and height. While in contrast, Lip Flip Botox consists of Botox which will relax the muscles surrounding the upper lip resulting in a slight lift.
Another major difference in the services is that the Lip Flip Botox service is a minimally-invasive service that requires a shorter appointment time compared to Lip Filler. When visiting for our Lip Filler service we will start by numbing your lips with a topical anesthetic to help with any discomfort. Once the area is fully numbed, your provider will start injecting the filler strategically to achieve our "Wanted Lips" aesthetic. This type of appointment is normally scheduled for 45 minutes.
To know what service best suits your needs, we recommend completing a virtual consultation prior to coming in for your first appointment. This is a 10-15 minute virtual call with the provider of your choice to help determine which service would achieve your goals. Schedule your consultation on our website at www.newimageworks.com/book or call our office for more information.
What's the major difference between "Wanted Lips" and regular lip filler?
As mentioned above, our "Wanted Lips" is our specific take on the Russian Lip Filler Technique. The major difference between our "Wanted Lips" and standard lip filler technique is the application of the filler in the lips. Our main focus when injecting lip filler is to result in a natural lift without the outward protrusion that is commonly seen with a standard lip filler technique.
How much filler do I need to achieve the look I'm going for?
Since everyone has different goals for how they want their lips to look, we always recommend consulting with a trained injector to determine how much filler would be needed to achieve their desired look. For some people, one syringe (consisting of 1mL of filler) would be enough to meet satisfaction. Whereas for others, after seeing the "swollen look" that is presented after treatment may be the goal. If that's the case, we recommend coming in for an additional syringe of filler 4-6 weeks after the initial appointment. This is because right after your appointment the swollen appearance from the lip filler will slowly recover over the course of 2 weeks.
We recommend treating the lips with 1 syringe of filler at a time to provide the "Wanted Lips" look, regardless of how lucious and juicy you want your lips to look. This gives us control of how we are treating the area, resulting in the most natural looking lip fillers possible.
What is the downtime / recovery for this service?
Once the Lip Filler treatment is completed, it is expected to have some swelling and potential bruising in the lip area. The average amount of time it will take to fully heal from this treatment is approximately 2 weeks. It's advised that if you have any major events or important things happening in the future to book your appointment with the downtime in mind. We recommend scheduling 3-4 weeks in advance, this way you have 2 weeks to recover, by which time you are able to come in for a follow up appointment. This is a complimentary appointment where you and the provider will meet, ensure you are satisfied with your results, additionally the provider will massage your lips to make sure they are perfect!
How do I know who to book with?
It may be hard to decide who to book your appointment with, as all our providers are highly trained and experienced. Our injectors at New Image Works are constantly perfecting their craft, while also participating in training to ensure top knowledge on Lip Filler techniques. We always recommend doing your research prior to scheduling an appointment. All of our providers have individual Instagram pages to showcase their portfolios of work, which is updated regularly with current before and after photos. A virtual consultation is another great way to meet your provider prior to coming in for treatment. We recommend using this time to ask any questions you have, and to ensure you're comfortable with the injector prior to your in person appointment.
How long will this service take and when do I see results?
For our Lip Filler service we schedule appointments for 45 minutes. This will include time for paperwork, numbing, and injection time. Results are immediate since we are injecting filler to the area, compared to other treatments such as a neurotoxin (Botox or Dysport) which can take up to 2 weeks to fully activate. With that being said, although the results are immediate it will take 2 weeks for any potential bruising and swelling to subside, leaving you with the "Wanted Lips" look!
Will this technique work for me if I've had filler before?
Since our "Wanted Lips" technique is specific to New Image Works, depending on how your previous provider injected your lip filler may result in us dissolving your old lip filler to achieve the results that make us so popular. Now this isn't always the case, in some instances we are able to inject filler using our technique over previous lip filler. This is why we require scheduling a virtual consultation prior to your first visit with us.
Am I able to do more than 1 syringe of filler in my lips during my visit?
Since our technique at New Image Works focuses on creating a natural looking lip using filler, we advise to only treat the lips with 1 syringe of filler per visit. This is because it gives us the opportunity to build on top of the preexisting filler with our specific technique, maintaining our desired "Wanted Lips" aesthetic. By adding too much filler to the lips without properly waiting for the area to heal this can lead to overstretching the skin, along with undesirable healed results.
How to schedule an appointment with us:
We have a couple of ways to book an appointment. You can either call the office and speak to a customer service specialist and they will guide you through the process of booking an appointment. Otherwise, you can schedule an appointment on our website at www.newimageworks.com/book. Simply select the location you would like to be seen at, along with the provider. The online booking tool will provide you with all the available times the injector is available. Just be sure to schedule a consultation as well if it's your first time seeing us for service!
Sources: https://www.medicalcosmeticsltd.co.uk/russian-lip-filler/
https://www.michelegreenmd.com/russian-lip-technique-for-lip-augmentation
https://www.junomedispa.com/blog/everything-you-need-to-know-about-the-russian-lip-filler-technique/
https://madisonfamilycare.com/blog/the-key-differences-between-lip-filler-and-a-lip-flip-pros-and-cons/